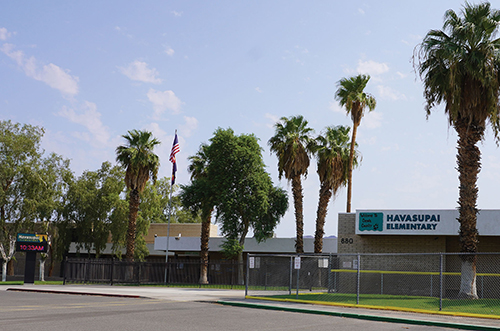 The mission of Havasupai Elementary School is to be the best elementary school in Lake Havasu City!
Today I will be safe, responsible, respectful, and show pride in myself and my school.
Start Time: 7:55 am (Breakfast available from 7:30 am - 7:45 am)
Dismissal Time: 2:30 pm
Early Release Dismissal Time (Thursdays): 1:00 pm
Parks and Rec: 2:30 pm - 6:00 pm; 1:00 pm - 6:00 pm (Early Release Thursdays)

Office Hours 7:00am ~ 3:30pm
All visitors please sign in at the office and get a visitor sticker.
Sign all students out in the front office.
If your child will be absent, please call the office at 505-6040 before 9:00 am.
An automated call will go out by 10:00 am to verify any unexcused absences.
We do have a voice mail prior to 7:00 am.