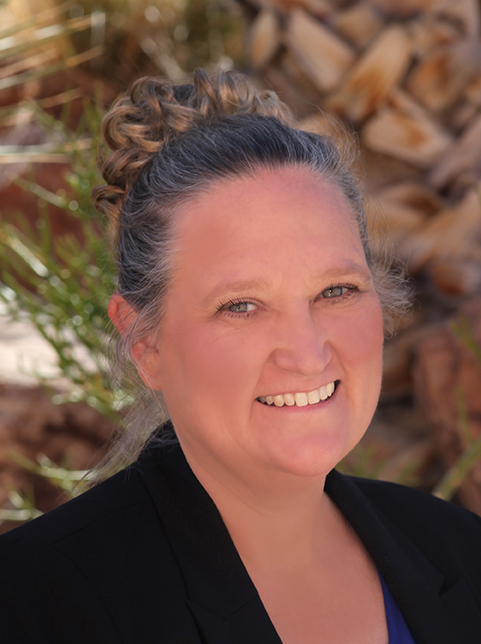 Mrs. Tamara Yates
Principal
Welcome to the new school year!
We are so excited to work with you and your students and cannot wait to get started. In the meantime, I know you are probably wanting to know a little about your new principal and what to expect this year.

I have been with this district for 16 years, all at Smoketree Elementary. There, I taught 1st, 3rd, 5th and 6th grades. I served on the curriculum mapping team (planning how to effectively teach the grade-level standards to all students and pacing instruction for the year), mentored new teachers and aspiring teachers from the high school as well as colleges, and served as a team leader.
The remaining years were spent as the academic coach and interventionist. While serving in both positions, I conducted professional development for teachers and supported their growth in a variety of ways.
I, myself, am a lifelong learner. I graduated from NAU with a master's degree in Elementary Education and another in Educational Leadership. I hold endorsements in reading, middles grades ELA, and structured English immersion. I love to learn and to share this knowledge and experience with everyone.
While serving as the interventionist, I worked with students who struggled in reading and helped them to master foundational skills that would enable them to be successful throughout their academic careers. I served as the district DIBELS trainer for over 10 years. I believe in looking at various data and using it to fill gaps that individual students have, as well as ensuring our programs and systems are as effective as possible. This helps us maintain the best possible learning environment for our students. In addition to supporting students during the school day, I coordinated the after-school tutoring program, homework club, and compensatory education (English Language Learners). I am passionate about meeting students where they are and moving them forward, helping them to be successful in everything they do.
My favorite part of education is collaborating with all stakeholders (students, staff, parents, and community members) to ensure that we are utilizing all resources available to the best of our ability. As partners, we will construct an effective plan for our students and work together to achieve our goals. I encourage you to become a part of our team by communicating regularly with your child's teacher, joining the PTSO and/or our Site-Based Council, and sharing your wonderful ideas with us. I look forward to working with each and every one of you!
Sincerely,
Tamara Yates